Eddie Scheer - Lead Vocals/Percussion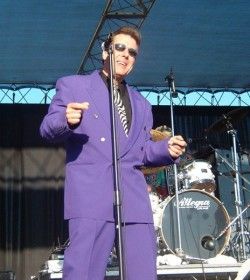 He's been voted "Outstanding Male Vocalist" and "Most Charismatic Entertainer" multiple times in the New England Blues Audience readers poll, and recently received the prestigious "Keeping The Blues Alive" award from the Boston Blues society.  Alpha Dog and frontman, Eddie "Duato" Scheer has been playing music his whole life.  By age 14 he was singing and playing drums professionally, and in his 20's became one of the busiest drummers in Boston, freelancing with all kinds of rock, funk and blues bands and eventually playing with such r&b greats as Peter Wolf, John Mayall, and Luther "Guitar Jr." Johnson.  In the early 90's he was fortunate enough to tour with legendary New Orleans singer Johnny Adams, and got his first exposure to the crescent city.  This experience would prove to be a huge influence on Eddie's musical future.  By 1994 he was writing lots of Jump Blues and New Orleans R&B styled songs, and encouraged by the fertile Boston blues scene, he formed The Love Dogs.
Although he's the ringleader, Eddie is quick to give credit to each member for playing an integral part in the band's sound. "My favorite thing about the Dogs," says Ed, "is that everyone in the band has their own show, and the whole is always greater than the sum of its parts. That's what really makes this band work."
Alizon Lissance - Keyboards/Vocals/Accordion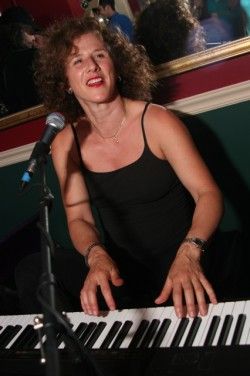 Ali, a gifted keyboard player and vocalist was an original member of the famed "Girls Night Out", has toured the world in various bands and won numerous awards, including a Boston Music Award for "Outstanding Keyboards." Alizon and Eddie have been playing together on and off for many years, including a few years in her own band "Alizon".
When Eddie got the idea for The Love Dogs, Alizon was one of the first people he called. For Alizon, the Love Dogs' music has the perfect mixture of elements and styles she's been sniffing at for years. Not only a dazzling pianist, she is featured on vocals at every Dogs' show, and performs many of her own songs with the band. The Love Dogs music brings about a spirit of improvisation and high energy that really encourages Alizon to howl at the moon!
Myanna - Alto & Tenor Sax/Vocals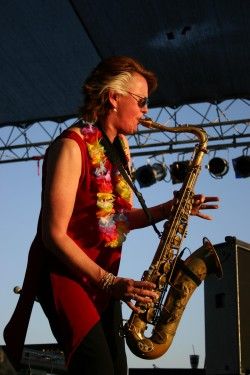 Myanna attracted immediate attention as a respected multi-sax player from the first time she stepped out onto the stage. After high school in Weston, Myanna went on to Berklee and the University of Massachusetts where she studied under Jazz great Max Roach.  Her own band "Myanna", which featured our own Alizon on keys, won the coveted Boston Phoenix/WFNX Best Music Poll, in 1994 AND 1996, in the "Best Local Jazz Act" category. In addition, the group was named "Outstanding Local Jazz Act" at the prestigious Boston Music Awards in 1992. Myanna was also an original member of Girls' Night Out.
Myanna joined the Dogs just after the band was formed in 1994, and the band's mix of jazz and R&B influences suits her to a tee. She leads the horn section and brings tremendous energy and personality to the band. She loves to get off stage with her horn and mingle with the crowd, and on the right night she's also been known to bust out some happenin' dance moves!
Glenn Shambroom - Guitar/Baritone Sax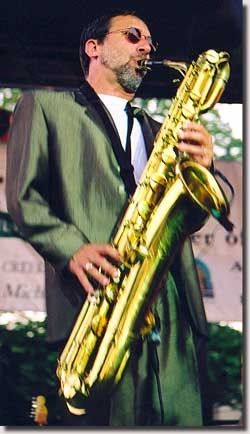 Keep an eye on Glenn! With all the different instruments he has in his corner, you never know what sound he is going to produce next!  Glenn started out on guitar, barking out country music, culminating in a stint as lead guitarist for John Lincoln Wright and the Sour Mash Boys from 1979 to 1983. After mastering the guitar, Glenn decided it was time to learn something new... so he picked up the saxophone!
"The music we play is a kind of mish-mash of R&B, Swing, Rock & Roll, and rockabilly... genres that I've always been involved with. I think a lot of musicians find opportunity to grow by looking back into older forms. You start out listening to Hendrix and Coltrane, work your way back to Sam Cooke and Dexter Gordon, and the next thing you know, you're mucking around with Hank Williams and Coleman Hawkins!"
"Check out Glenn's latest CD "Band Math" or his other recordings "Include Me Out", and "Make Room For Snappy"
Randy Bramwell - Bass/Vocals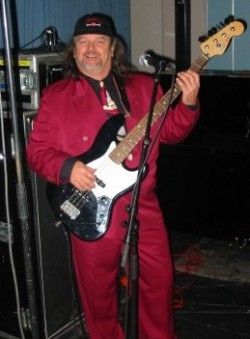 The man who holds the whole thing together and keeps the Dogs movin' and groovin' is Randy Bramwell on Bass. Originally from New Jersey, Randy has been a professional musician since the age of 13. He came to Boston to attend Berklee college, and quickly became one of the most in-demand bassists in town. Over the years he has played and recorded with a huge variety of artists including Billy Cobham, Lelesy Gore, Brian Auger, Ben Orr (of the Cars), Michelle Willson, and yes, even Joe Pesci! Randy is also a top level studio musician, and has recorded on hundreds of sessions including radio, tv and motion picture soundtracks in Boston, New York, and L.A.

Randy has been a part of the Love Dogs family since the band was formed in 1994, and has been our full time bassist since 2001. His rock solid playing gives the Dogs' music the foundation it needs, and his slammin' bass solos are a high point of every Love Dogs show!