Every Tue night, Eddie Scheer hosts The Tuesday Night All Stars @ The Corrib Pub in Brighton Center, featuring a revolving cast of New England's BEST Blues, Roots and R&B musicians in a spontaneous and fun setting.  It's become THE mid-week place to be for live music.  The shows are free, the food and drinks are great, and you never know WHO will show up!
If you'd like to sign up for the Tuesday Night All Stars emailing list and receive more info. on specific shows, just send an email to tueallstars@thelovedogs.com with the words "Sign Me Up" in the subject line.  You can also check out the Tuesday All Stars facebook page facebook.com/tuesdayallstars where we regularly post pics and video from our Tue night soirees!
Here's this month's lineup: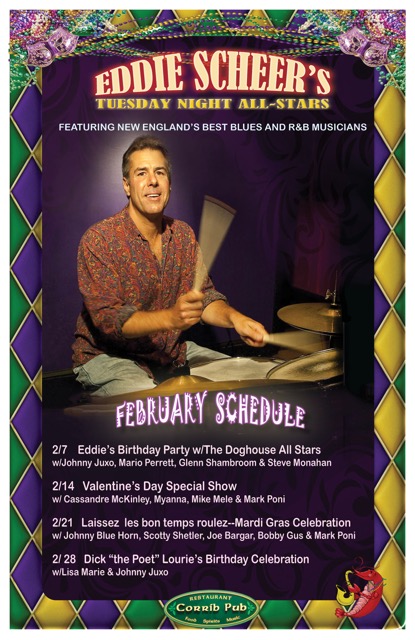 Previous events
We LOVE ATAC! Great sound and sight lines, room to dance and a grand piano! Advance tix available now.
A special show at this friendly and intimate venue. Room to dance, great drink prices and free pizza at 9!
Join us at this famous Springfield venue - great hospitality and the best BBQ north of the Mason/Dixon!
https://www.facebook.com/TheLoveDogs/