The Love Dogs' Recipe For The Blues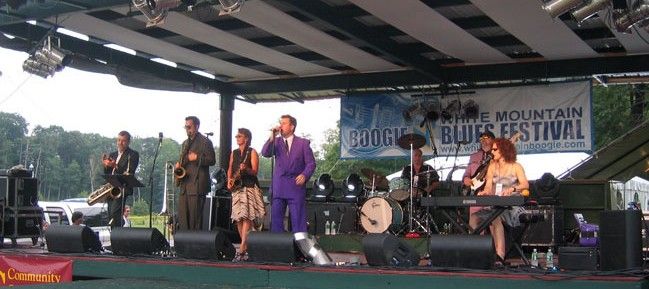 Take one red-hot horn section - we're talkin' alto, tenor, baritone saxes and trombone - down and dirty. Add liberal amounts of barrelhouse boogie-woogie piano and stinging Fender guitar. Pour over a funky and swinging rhythm section that Blues Review magazine called "the best in the business", and top it all off with a crazy and charismatic front man with one of the biggest blues voices around. Season with a few years on the road tearing up juke joints, festivals and concert halls across the U.S. and Canada and on both sides of the Atlantic. Sound tasty? It's a recipe for music and mayhem, for intensity and irreverence; it's THE LOVE DOGS.
Based out of Boston, this hard swinging septet just celebrated its 20th year wowing audiences and critics alike with their combination of great musicianship and pure fun. The Dogs combine elements of jump blues, New Orleans R&B and early rock 'n' roll into their own powerhouse sound. You can hear it loud and clear on their three Tone-Cool cds "I'm Yo Dog" (1996), "Heavy Petting" (1998) and "New Tricks" (2000). Many of the cuts from these three discs have been blues radio favorites, several of the Dogs' signature original songs have been used in feature films and on television, and one has even been sampled for use on the upcoming Run-DMC cd!
But as much fun as the Dogs' studio discs are, it's nothing compared to seeing them live. FMQB magazine called Love Dogs' concerts "the stuff of legend" where "soulful vocals, killer grooves, spontaneity and pure entertainment play equal parts". With their newest cd "Live And On Fire" The Love Dogs have finally captured the unbridled energy of their live show on disc. Far from a live retread of previously recorded tunes, "Live And On Fire" features ten brand new tracks captured live on a summer weekend at the famous Sea Note nightclub on the outskirts of Boston.
"It's important to us to have fun, and sometimes even we don't know what we're gonna do next." says lead vocalist and songwriter EDDIE "DUATO" SCHEER, a former sideman of R&B legend Johnny Adams. "We have a lot of humor in our music, and we love to surprise each other and make each other laugh. When a crowd can see that, it becomes contagious. Pretty soon they're giving us back as much energy as we're putting out, and the whole thing keeps escalating. We call it the 'tribal love vibe'".
Featuring some of the Northeast's best players, it's impossible not to notice the high level of musicianship in this band. "We're all lifetime fans of blues, jazz, and R&B, and we all have a real reverence for the music. Part of what makes this band special is that we really play together as a unit, and the whole is greater than the sum of its parts." The band's lineup consists of SCHEER, ALIZON LISSANCE (keyboards, vocals), MYANNA (alto/tenor sax, vocals), GLENN SHAMBROOM (guitar, baritone sax), RANDY BRAMWELL (bass, vocals), STEVE BROWN (drums, vocals), along with part time Dogs MARIO PERRETT (tenor sax/vocals), MARK PAQUIN (tenor sax, trombone) and old friend "SAX" GORDON BEADLE (tenor and baritone sax).
Voted "Best New England Band" by Blues Audience magazine, the Dogs are Part Rat Pack party, part 20th century musical encyclopedia, and part revival meeting. The New York Post says "Even though the music could make Leonardo's David dance, it's the songwriting that separates these dogs from the rest of the pack" and Blues Review agrees "If there were a Superbowl for crowd pleasing rhythm & blues, a photo of The Love Dogs would be on every Wheaties box in America." Scheer sums it up by saying "If this band doesn't put a smile on your face, check your pulse because you just might be dead."
Previous events
We're FINALLY back at Southern CT's best dance party! Lesson at 7, we play at 8 - see you there!
We're back at The Legion for a Saturday night of music, fun and free pizza!
It's our honor again to host this terrific day of music on Brighton Common. We'll be rockin' the old neighborhood, and our special guests will be The Cheryl Arena Band featuring Mike DiBari & Teddy B. - and it's all FREE!!